News and Events
Updates about exhibitions, teaching and my annual open studio
With the success of the 2016 workshops, I am running a further series of fun and friendly workshops in 2017starting in  Autumn - please see the 'Workshops in 2017' links displayed on the left.
Exhibitions
I'm pleased to say I am exhibiting at Holmfirth Art Week this year from 3 - 8th July at the Civic Hall in Holmfirth. This event has been run by fantastic volunteers for 51 years and all proceeds go to the brilliant Macmillan Cancer Support. So far more than £885,000 has been raised. There are more than 400 artists taking part this year showing more than 2000 works of art as well as an extensive fringe event around the town showing more arts and crafts. Come and support if you can and enjoy a wonderful day out!
Rosedale Studio is open to visitors most Thursdays Fridays and Saturdays from 10.30 a.m. to 4.30 p.m. As well as my paintings there are plenty of quality crafts including jewellery, ceramics, cards and textiles from talented local makers.
Past Exhibitions
Dean Clough Viaduct Gallery June 2017
Otley Court House May 2017

The Bingley Gallery
July 2015
I had two paintings exhibited as part of an exhibition with the theme "interpret a poem"
Bingley Arts Centre
In June 2015 I was part of another AVA group exhibition with the theme of "black and white
Sunny Bank Mills, Leeds
I was showing work in this lovely gallery in the centre of Farsley, Leeds during November 2014 and January 2015. The gallery is in the old finishing room of the Mill, a wonderful large and airy space.This was a group exhibition with Aire Valley Arts with 17 artists showing paintings, ceramics and textiles.
www.sunnybankmills.co.uk
0113 256 3239
Harrogate, St Peter's Church
In June 2014 I was showing plenty of work in the Glazed Foyer Gallery in St Peter's Church, Harrogate (near the cenotaph). This was part of an exhibition with Aire Valley Arts, a group I have exhibited with for many years. The exhibition included paintings, prints, embroideries and ceramics.
Water Street Gallery, Todmorden
I was showing two paintings in Water Street Gallery (I still have one piece on display) as part of an exhibition based on The Garden Of Earthly Delights.The exhibition ran from June to the end of August 2014.   waterstreetgallery.co.uk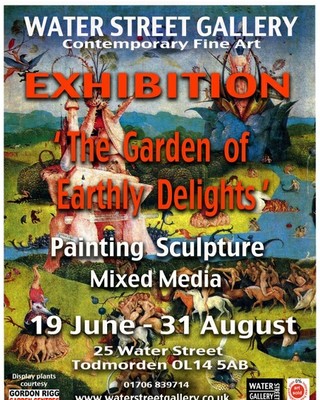 click on image
Thank you very much to everyone who came to see the exhibition in the Atrium Gallery in the Bexley Wing of St James' in Leeds.  The exhibition was a huge success for Aire Valley Arts and the hospital with lots of work sold and 20% going to Yorkshire Cancer Care. More importantly, we had some very good feedback from patients saying how much they enjoyed the exhibition.  In addition, thank you for attending the exhibition at Saltaire and for coming to my Open Studio.